Quality, affordable teardrop flags and rollup / pullup banners
Get your promotion off to a flying start with custom designed teardrop flags, windblade flags, rollup banners and media walls to maximise your exposure at tradeshows and events. 
Trusted by kiwi businesses since 2005, our team will provide excellent customer service and display products you will be proud of. 
In addition, we offer special prices for not for profits, educators and community organisations so please request a charity quote if this includes you.
Pre Christmas Sale! 
Rollup Banners, Swing Arm Flags and Banner Walls
Lowest prices ever on the following products but be quick. Offers are valid until 10th December 2021 and are subject to availability of hardware.  Please contact us or call 0508 262 753 for more information or to place an order.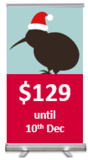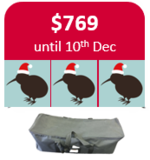 Rollup banners (also known as pullup banners) are the best small, portable signage around.  They allow for brand, bullet points, images and calls to action to be displayed and moved around as you wish.
Rollup banners are also light and easy to erect for one person. We have three styles of rollup / pullup banner for you to choose from: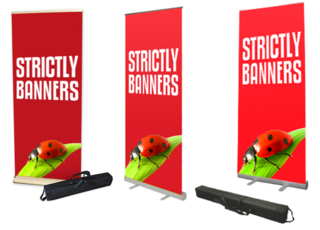 All banners are produced with the same high quality prints on PVC and are supplied with carry bags for easy transport.
Teardrop Flags and Windblade Flags
All of our teardrop and windblade flags are great quality and offer exceptional value for money.
Our banners and flags can be seen throughout the country promoting retailers, charity shops, sporting events, school houses and much more.  
We have small, medium and large flags on offer with a range of bases and either single sided or double sided print.
View teardrop flags | View Wind Flags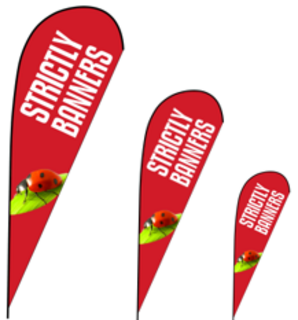 Our teardrop and windblade flags are proudly produced in NZ using quality materials and workmanship. This reduces the risk of shipping delays, ensures a shorter turnaround time and supports our local economy. 
Need them even quicker?  If production allows, we may be able to produce your teardrop and windblade flags even faster - there is a print set-up fee for this service but if it's urgent, it's urgent!
Banner Walls & Media Walls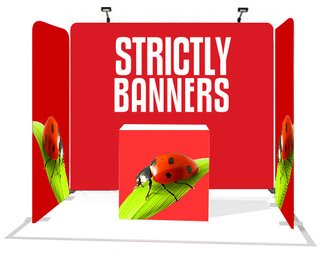 There's no better way of getting noticed than a portable banner wall. Easy to assemble, this style of media wall will fit into any expo space you need it to.
Our economy banner wall is available in 1.8m wide and 3m wide and both sizes can be printed on one or both sides meaning there's no need for a fixed wall behind your stand.
Our premium range of TubeLOC exhibition displays can lock together in any configuration you choose, even creating your own private expo stand.
You need professional, eye catching graphic design if you want your rollup banner or teardrop flag to stand out. You can either use your own graphic designer or we can design for you.  We are experts at making sure your promotional, exhibition and tradeshow messages are communicated easily to your target market. 
We have design templates for most of our products.  Please click here to download the correct template for your order.
You Can Count on Us
We supply our flags and banners throughout NZ with and with over 15 years experience and an excellent customer service track record, we are ready to assist with your next event.